Simple Picture Viewer - AhaView
AhaView is a handy picture viewer and converter. It allows you to browse, view, organize and convert your digital images.
With AhaView you can:
Browse images in thumbnail mode
View images in full-screen mode
Convert your images to BMP, GIF, JPEG and PNG formats
Create icons from images
Attach descriptions to files
Show a sequence of images as a slide show
Explore image properties
Copy images to the clipboard
Copy, move, duplicate and rename files
Use command line interface
Supported formats:
BMP - Windows Bitmap
JPG - JPEG JFIF Image
JP2 - JPEG 2000 Image
PSD - Adobe Photoshop Image
PNG - Portable Network Graphics
ICO - Windows Icon
CUR - Windows Cursor
ANI - Animated Cursor
GIF - Compuserve Graphics Interchange Format
PBM - Portable bitmap
TGA - Targa image
TIF - TIFF image
XBM - X Bitmap
XPM - X Pixmap
WMF - Windows Metafile
WBMP - Wireless Bitmap
ICNS - Mac OS Icon
RSRC - Mac OS Icon
System requirements: Windows 95/98/ME/2000/NT/XP/2003/Vista/7/8, 32 MB RAM, Pentium-233 MHz, 5 MB Hard Disk.

Trial limitations: 30-day trial period, nag screen.

Download:
exe
zip
Click here to order AhaView
An Honest Review About The Image Converter And Image Viewer For BMP To JPG Conversion
AhaView is one of the most powerful image converters in the market; it is also a handy image viewer that helps you to convert images into icons of your choice work on various file formats and convert bmp to jpg and jpg to gif. It is also a convenient tool for the creation of other graphics such as cursors.

If you are looking for a convenient, quick and efficient picture viewer and image converter than AhaView is just the software for you. It helps you to browse, organize, view and convert your image files. This is one of the handiest tools available in the market that help you to handle all your image files including icon and cursor images. All images including the large ones can be browsed in the thumbnail mode with this image viewer.

You can also view selected images in full screen mode. The tool also has the ability to convert images from bmp to jpg and jpg to gif apart from other formats such as PNG. You can use this image converter to turn your images into icons while the tool also allows you to display the images in a sequence as a slide show. You can easily copy the images and move duplicate and rename the files. The tool also allows you to use a command line interface.

Use this image viewer helps you to explore the properties of an image file and attach descriptions to individual images. AhaView is one of the handiest and the most user-friendly image converter available online. The best part is that unlike some other programs you will not break the bank trying to buy this efficient software; it is available at a low price and you cam even try it out for 30 days so that you get the time to ascertain that the software indeed works for you. AhaView is just one in the range of software programs from ahaview.com

Any to Icon is another program from the site that helps to convert images from bmp to ico and from gif to ico. ICL-Icon Extractor has other features such as its ability to find and extract icons from your system and convert them to images that can be used on websites and web pages. The other programs from the site include the IconLover which is a powerful icon maker and editor and the ArtCursors that is potent tool for the creation of static and animated cursors. As you can see, ahaview.com endeavors to provide complete graphic designing solutions to their visitors. What ever your needs, you will find a tool to take care of them at the site. All the programs have standard system requirements and can be used to successfully design a range of graphics that can be incorporated in website and application designs.

If you want to create personalized icons for your website, you should certainly check out the tools on the site. Not only will you save a bundle that you would have spent in hiring the services of a graphics designer but also the quality of your work will be excellent. The images can create wonders on a website and will serve to attract visitors and will also come in handy when you have to draw their attention to a link or a particular portion of the site.


Read Icon Articles
New Metro Icon Studio
All Icon Sets
ArtIcons Pro
is our pick. It enables professional and amateur artists to design and edit all kinds of icons. It supports ICO, BMP, PNG, GIF, ICPR, PSD, XPM, XBM, WBMP, CUR, ANI formats. German interface is available.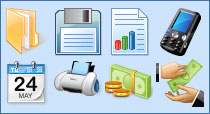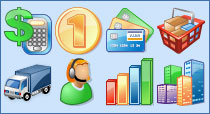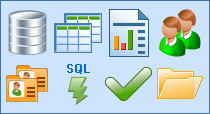 IconLover
allows you to design and edit all kinds of graphics required in the software development cycle, including icons, static and animated cursors and interface elements - all these kinds of graphics can now be designed in a single application.
ArtCursors
allows you to find, create, edit, import and export cursors and manage cursor libraries. It supports static and animated cursors.
Any to Icon
converts icons and cursors into BMP, JPG, PNG, GIF, ICO, CUR and other formats. This wizard can find icons and make images for use on Web pages.