Find, extract, edit and create Windows, Android, iOS, website icons in color depths up to 32-bit True Color. Import and export ICO, CUR, BMP, JPG, PNG, PSD, WBMP, GIF images. Create and manage icon libraries. Create and store images with several layers.
With Portable Icon Editor you can:
Create and edit icons in color depths up to 16 million colors
Create and edit Metro-style icons for Windows 8
Create and edit images in 32-bit color depth with 8-bit alpha channel
Create and store images containing several layers
Paint images with gradient and chess fill
Modify images with drop shadow, opacity, smooth, negative, grayscale, colorize, rotate, roll and mirror effects
Import icons from .cur, .ani, .ico, .icpr, .wmf, .emf, .bmp, .wbmp, .jpg, .gif, .tga, .xbm, .xpm and .png files
Export icon images to .cur, .ico, .icpr, .bmp, .jpg, .gif, .png, .xbm, .xpm, .wbmp and .rc files
Export animated icons to animated .gif images and image list bitmaps
Extract icons from Windows executables, libraries and animated icon files
Create icon libraries for better and more efficient storage
Collect icons from folders and subfolders into libraries
Work with image lists in BMP and PNG formats
Delete identical icons in libraries
Drag and drop files from file shells
Drag and drop icons from one library to another
Drag and drop icon images from one icon to another
Copy and paste icons in libraries
Copy and paste images to other applications
System requirements: Windows 95/98/ME/2000/NT/XP/2003/Vista/7/8.

Trial limitations: 30-day trial period, nag screen.

Download icon editor:
exe
zip
Click here to order icon editor
Full screenshot

If you have always wanted to design icons with your own unique blend of creativity; then, this is your chance to do so because now you can get access to a very powerful icon editor that can be used to make all sorts of web graphics from Windows icons to mouse cursors.


View Icon Articles
Company Software Packages Facilitated, High Icons Towards the Forefront
There is lots which could go wrong if you are working to create a business software, since several web developers are usually continuously having difficulties in between always keeping it sober whilst continuing to keep it through becoming way too unexciting. This while looking to integrate the complicated benefits. Aero business symbols are the step to the issue, stay with me to find out more.


Tab Bar Icons with Source Vector Files
Tab Bar Icons For Mobile Apps
iOS Tab Bar Icon Set

Tab Bar iOS Icons
High Resolution App Tab Bar Icons for iPhone & iPad

3d Glossy Icons
Application Bar Icons for Windows Phone 7 Series
Blue Icons
Black Icons

Avia Software Icons
Professional Toolbar Icons
Ribbon Bar Icons
Glossy Toolbar Icons
3d Business Icons
Glossy Data Icons
Perfect Automation Icons
Android Icon Pack

Medical Tab Bar Icons for iPhone & iPad
Hotel App Tab Bar Icons for iPhone & iPad
App Bar Icons for Windows Phone and Windows 8
Medical Icons for WP7


In each and every software, every one of the consumer sees could be the graphical user interface, no matter how attractively the particular reasoning works and also what ever functions it could involve if he needs to look at an ungainly distracting screen he'd use only the actual software package until the occasion he receives a better option. Just what numerous developers neglect to seem to comprehend is - the significance of quick and simple navigability, as well as appealing visual content, and many an application didn't garner the buzz they normally would have as a result lack of knowledge.

If web programmers do realize the importance of a superb GUI, some people sometimes do not have the particular ability or the in depth time frame forced to meticulously build it. The issue is settled partially through aero business symbols- given it offers a person together with the visuals you might need when trying to build up a business centered software package. By buying these types of, you find a variety of 285 top notch enterprise artwork in 2 shade schemes which includes 256 colorations in addition to 32 bit. All these visuals tend to be suitable for just about all operating systems and may be applied with Microsoft Windows, Macintosh OS, iOS as well as android centered apps. Furthermore, all these design can be found in five different sizes that range between no more than sixteen x sixteen pixels towards the most significant being 256 x 256 pixels. Everyone of those symbols has been painstakingly developed by pros who have ensured that best colours are right now there to complement the amazing detailed pictography. The photographs are extremely descriptive in nature nearly towards the point of being funny and so are guaranteed to find the userís creative imagination. In addition to that, when employed wisely and also positioned tactically close to your own app they might help with keeping probably the most complicated business logic organized about the screen.

A number of the very impressive designs incorporate that of the employer, a client, an icon regarding consumer listing, one with regard to motor technician, even ecosystem, secret agent symbols as well as birthday parties find a place among the set. All of these are available in addition to better typical designs such as those of investment, purchase, cart as well as bank, as well as the undeniable fact that they've stayed in figuring out every piece of information is so rather apparent, a boss is often a stub in black suit as the spy is found with a hat on, my favourite of most of all of these have to be that of a business rival that has a bullís eye trained upon them. Nowadays when we finally have numerous comparable softwares flooding industry, it truly is what exactly is distinct amid these that matters. Differ, be basic as well as be trendy.


ArtIcons Pro
is our pick. It enables professional and amateur artists to design and edit all kinds of icons. It supports ICO, BMP, PNG, GIF, ICPR, PSD, XPM, XBM, WBMP, CUR, ANI formats. German interface is available.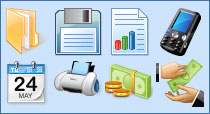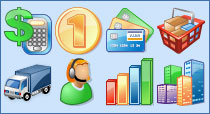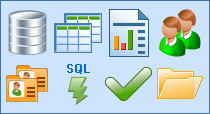 IconLover
allows you to design and edit all kinds of graphics required in the software development cycle, including icons, static and animated cursors and interface elements - all these kinds of graphics can now be designed in a single application.
ArtCursors
allows you to find, create, edit, import and export cursors and manage cursor libraries. It supports static and animated cursors.
Any to Icon
converts icons and cursors into BMP, JPG, PNG, GIF, ICO, CUR and other formats. This wizard can find icons and make images for use on Web pages.